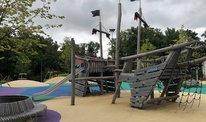 PLAYINGGROUND "SHIP"
Playground "Ship" is an outdoor equipped area where children can play safely and comfortably. In terms of the number of facilities, the playground is more like a multifunctional children's complex.
It has its own cable line, slides, swings, a pirate ship and many more entertainment facilities, the ground is covered with soft rubberized material.
In total, there are 22 playing elements on the playground that will be interesting for children from 1 to 15 years old.