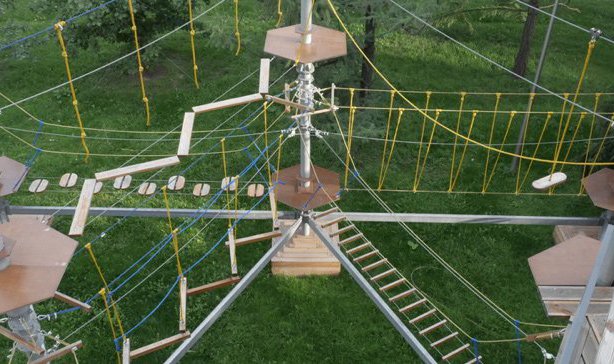 PANDAPARK
A popular Russian network of rope parks "PandaPark" in "Luzhniki" has 6 routes with different difficulty levels and altitude (from 1.5 to 9 m) for adults and children (from 110 cm in height).
For those who like experience at high altitude, there is suspended bridges, barrels, and netting crosses.
The park has a professional safety system, and experienced instructors work with visitors. In "PandaPark" you can not only do the exercises, but also celebrate a birthday, have a children's party, organise a corporate event or team building.
The rope park includes four difficulty levels:
1. Bright. A low altitude trail suitable for beginners. Its length is 60 m and consists of 10 obstacles.
2. Clever. This route also runs at low altitude, but the obstacles are more difficult here. Path length 72 m and 12 obstacles.
3. Cheerful. The route for young visitors runs at an altitude of almost 5 m. Its length is 66 m and the children will have to overcome 11 obstacles.
4. Brave. A challenging 66 m route for thrill seekers. There will also be 11 obstacles here.
5. Family. The name speaks of itself.  Length 66 m, 11 obstacles.
6. Unbeatable. This is a 66 m route for the most prepared visitors. 11 obstacles