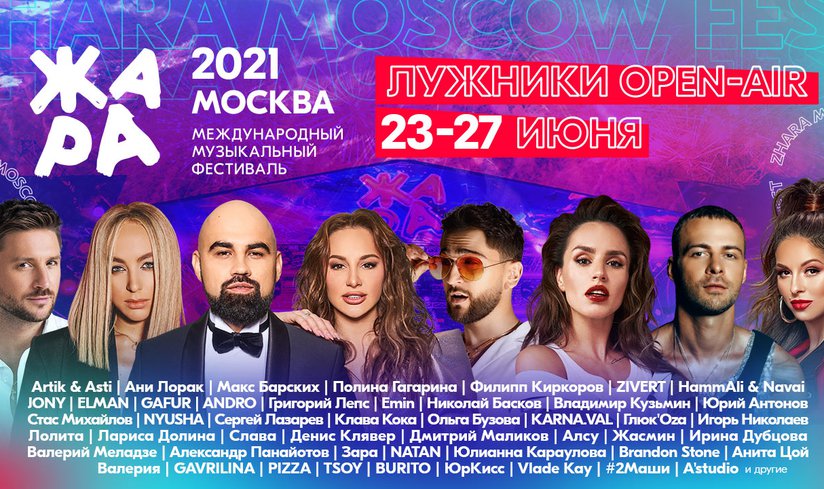 Music Festival "ZHARA"

For the first time in Moscow! The international music Festival «ZHARA» will be held on the territory of the Luzhniki sports complex from 23 to 27 June. The concept of the festival, traditionally held on the Caspian coast in Baku, will remain the same.
The audience will have five days of concert program, which will be attended by more than 200 artists from Russia and the CIS countries.
The festival program starts on June 23. On this day, the opening gala concert will be held with the performance of all the best hits.
On the second day of the festival will be a creative evening with Dmitry Malikov.
On June 25, the third day of the festival, with the participation of invited artists, creative evenings of Igor Nikolaev and Oleg Gazmanov.
June 26 - creative evening of Yuri Antonov, who has not performed solo concerts for many years.
On the final day of the festival, the final gala concert of the «ZHARA-21» festival will take place.
«Zhara-21» festival will be attended by: Yuri Antonov, Philip Kirkorov, Dmitry Malikov, Elka, Leonid Agutin, Valery Meladze, Stas Mikhailov, Grigory Leps, Max Barskikh, Polina Gagarina, Sergey Lazarev, Zivert, Jony, HammAli & Navai, Marie Kraymbreri, Artik & Asti, #2mashi, Alexey Chumakov, Nikolai Baskov, Nyusha, Ani Lorak, Vera Brezhneva, Vintage, Vladimir Kuzmin, Emin, Gluck'oza, A'Studio, "Discoteka avaria", Oleg Gazmanov, Larisa Dolina, Zvonky, "Ivanushki int", Igor Nikolaev, Intars Busulis, Irina Dubtsova, Klava Coca, Kristina Orbakaite, Lolita, Lyubov Uspenskaya, Marina Fedunkiv, Mitya Fomin, Mot, Olga Buzova, Slava, Soso Pavliashvili, Timur Rodriguez, Yulianna Karaulova, Yulia Kovalchuk, Yulia Proskuryakova, Denis Klyaver, Jasmin, Zara, Alexander Panayotov, Lada Dance, "Na-na", Natasha Koroleva, Anita Tsoi, Valeria, Andro, Elman, Brandon Stone, Burito, Alsou, Gafur, Gavrilina, Iowa, Karna. val, Natan, Vanya Dmitrienko, Pizza, Rasa, Tsoy,Lena Temnikova, Nikita Kiosse, Khabib, Cosmos Girls, Daasha and many others.