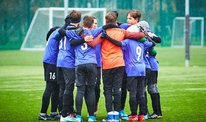 CHILDREN'S FOOTBALL IN LUZHNIKI
Open door day and enrolment to the club
August 18, 20, 31, 2020 at 4 p.m.
Moscow, "Luzhniki" Stadium, field number 6, Luzhniki embankment 24, building 18a
You will learn about organisation in our club at an open class, about how our footballers train, you will be able to talk to the children and coaches. Master classes from coaches and invited guests are waiting for you! It will be fun and interesting! Come and join us!