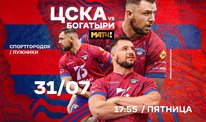 RUGBY CSKA VS BOGATYRI — JULY 31 IN "LUZHNIKI"
The "CSKA Moscow" rugby club comes to the field against the Krasnodar "Bogatyri" on Friday, July 31 at the Sports Town of "Luzhniki" sports complex.
Start at 5:55 p.m.
For the first time of this season, the game of CSKA will be shown on Match-TV, and the army team will come out to the field in a new design outfit!
Both teams are in dire need of tournament points and are eager to get their first win of the season. The match is going be hot.
Photo: CSKA Rugby Club