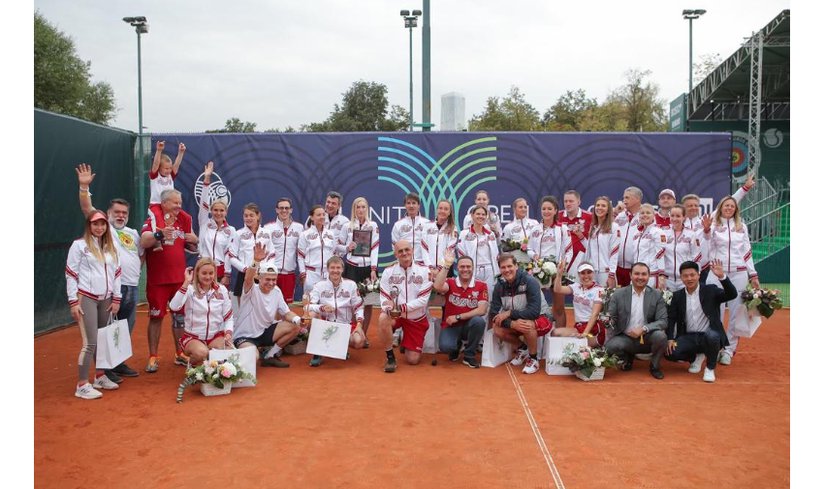 "BOSCO FRIENDS OPEN" TENNIS TOURNAMENT IN "LUZHNIKI"
Traditionally, on the first autumn weekend, Bosco di Ciliegi and the "Friends" Foundation held the second "Bosco Friends Open" charity tennis tournament.
This year, everyone who took part in the Bosco charity event was able to visit the first day of the tournament at the Bosco Tennis Club territory in "Luzhniki". The tournament began with #BoscoExsersice, which was conducted by the Olympic tennis champion Elena Vesnina. The speaker of the tournament was Ivan Urgant, Chairman of the "Friends" Fund Board of Trustees, and Mikhail Kusnirovich announced the results of the action before the awarding ceremony, solemnly presenting the fund representatives with a check for 1.016.611,2 roubles.
The tenth tennis tournament "LANIT Open 2020" was held as part of the Bosco Friends Open on September 5. The tournament is held at the initiative of the LANIT Group of Companies - the leader in the field of information and telecommunication technologies in the country. LANIT Open competitions are held in mixed pairs in the "Pro-Am" format when amateurs play in tandem with professional athletes in the Olympic system for all places. The victory in the tournament went to Alexander Pronin, General Director of "Luzhniki", and Anastasia Frolova.
The culmination of the tournament on September 6 was a star match of the professionals. In a tense game of Anastasia Myskina and Maria Kirilenko against Elena Vesnina and Ekaterina Makarova, the second pair won.
Ksenia Sobchak, Nadezhda Solovieva, daughter of Ksenia Solovieva - Alexandra, mother of Ekaterina Makarova - Olga and other family members of the participants of the game came to support their loved ones on this day. Among the fans that day were the founders of the "Friends" Foundation Dmitry Yampolsky, Gor Nakhapetian and Yan Yanovsky with his wife Lena Feigin and children, Ekaterina Moiseeva with her son Mark, Shamil Tarpishchev, Oleg and Anastasia Menshikovs, Alexander Tsypkin, Alexander Rappoport, Masha Fedorova, Philip and Lisa Yankovskiy, Victoria Davydova, Alena Babenko, Vlad Lisovets, Irina Mironova, Svetlana Khorkina, Askold Zapashny, Polina Askeri, Roman Kostomarov and Oksana Domnina, Andrey Gnatyuk, Ilya Averbukh, Irina Jovovich, Ksenia Sukhinova, Kristina Levieva, Sergey Polya Filin, Maria Prorvich, Alexey and Galina Nemovs, Olga Fleur, Alexey Tikhonov, Ekaterina Bobrova, Dmitry Soloviev, Maxim Stavitsky, Albena Denkova and others.